When it comes to stocking your San Antonio micro-market service, it's important to consider your employees health and wellness. If they feel great, they'll work better! Supplying healthy options in your break room can also lead to less sick days needed. This is because eating a balanced diet supports a healthy immune system. Additionally, supporting positive lifestyle choices will boost your workplace culture and productivity.
Immunity Enhancing Green Tea
Healthy Snacking with Nuts & Seeds
Make the office refreshments an even better employee benefit by providing options that are healthy and tasty. Nuts and seeds are the perfect snack to kick hunger and improve immunity throughout the workday. Nuts contain vitamins and minerals that help support a healthy immune system. Specifically, almonds are packed with ingredients that works to fight off cold and flu symptoms.
Vitamin Rich Orange Juice
There's nothing like a cold glass of fresh squeezed orange juice, and the good news is that it's more than just a delicious beverage. Orange juice is a great source of vitamins and nutrients. If the juice contains pulp, then it's also a good source of fiber. Combined, these nutrients can support general wellness and health.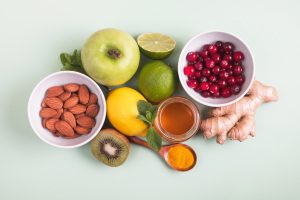 Healthy Fresh Fruits