Ever wondered how important your San Antonio vending machine product selections are? You might be surprised to learn that they are very important and play a major part of your employee's day. Did you know, the average person makes around 200 decisions around food and beverages daily? Yep, you read that right! That is way it is crucial for you to have a variety of quality products available in your San Antonio break room.
To set your employee's up for a successful day of easy decision making, keep reading to learn the best San Antonio vending machine "must-haves."
Beverage Vending Machine "Must Haves"
There are several staple items you want to see when shopping your San Antonio beverage vending machine. Employees appreciate variety, but they also like routine. How do you bring both of these options in your San Antonio refreshment services? Easy, you partner with L.C. Vending Co. and we make it happen!
Something Hydrating – Having these products available to your employee's is a great way to keep them hydrated and focused throughout the workday.
Something Energizing – Everyone needs that extra boost of energy every now and then. So, be sure to include energizing drink options in your San Antonio break room. Your employees will thank you!
Something Bubbly – When the cravings for a carbonated drink hit, make sure your San Antonio vending machine equipped to provide. By including several carbonated drink options, you'll be on the right track!
Something Sweet – Everyone enjoys a drink with some flavor. So, make sure to offer some sweet drink options in your break room vending machine.
Snack Vending Machine "Must-Haves"
In your San Antonio snack vending machines, you'll want to have snacks with a mix of flavors. Everyone has different taste, so your employees will appreciate having a wide variety to choose from. You might be asking yourself, "How can I offer products everyone will love?" Well, we are here to help you with our superior San Antonio refreshment solutions!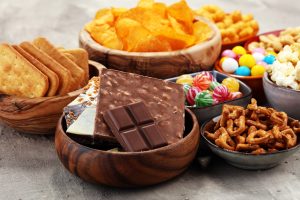 Something Sweet – Being able to rely on your break room vending machine to have something sweet is a major employee benefit. So, we make sure your vending machine is stocked up and ready to go when that hunger strikes!
Something Salty – Ever been on the hunt for something salty, but nothing sounded good? That's because the right products weren't in your snack vending machine! We stay up to date on top trends and make sure those products are always available.
Something Spicy – Spicy snacks in your San Antonio vending machines offer excitement for your employees. Additionally, you can bring in different flavors of spice to mix things up.
Something Sour – What do you do when nothing sweet, salty, or spicy sounds good? You reach for something sour! It might not be a daily necessity, but it's still important to have when that craving hits.
Ready To Stock Up Your San Antonio Vending Machines with Us?
You can rely on us to bring in the products your employees deserve! With over 60 years of industry experience, we know which products will give your employees the best possible experience. Visit us at L.C. Vending Co. or call 210-532-3152 to speak with a specialist today!