Vending machines are a reliable way to get a quick bite to eat when hunger strikes. Or, an easy way to find a refreshing drink when your mouth feels dry. That's why it's important for businesses to partner with a San Antonio refreshment service provider who can properly equip their space. For example, if your team knows their favorite products are right down the hall, they won't have to worry about taking the time to run to the store. So, how do you know what machines you need to make this happen? We know, so you don't have to!
Now, vending machines are often found in a company break room; However, there are several places in San Antonio where they are beneficial. No, really! Keep reading below to find out where!
1. Save Time with Vending Machines in your Lobby
Running late to a meeting but have no time to stop for a drink on the way? Don't worry! You can often find our beverage vending machines in the lobby of many San Antonio businesses. That way, you can grab something to quench your thirst when you arrive. Plus, our mobile payment options make for an even faster check out. No cash? No problem!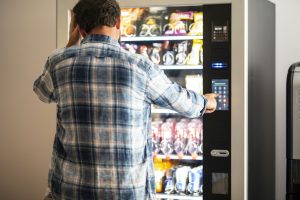 2. Hotel Vending Machines Elevate your Guest's Experience
Picture this, you're on a business trip, and after settling in for the night, you start craving something sweet. Well, you can rest easy because you spotted the hotel's snack vending machine next to the elevator on the way to your room. Even better, they have your favorite candy bar in stock! So, instead of dreaming about it, you'll be sound asleep after enjoying a late night treat!
3. Quality Vending Machines Every Waiting Room Deserves
We often find ourselves in a waiting room for a variety of reasons. And sometimes we get hungry unexpectedly, whether it's at the doctors office, the airport, or even at a car dealership. That's why we encourage our customers to equip their space with our modern vending equipment. So, no matter how long you're clients are waiting, they'll be able to find something to eat onsite!

Even better, we are the only San Antonio vending provider with an in-house commissary. Meaning, every item found in your San Antonio food vending machine is freshly made. Talk about a premium experience!
4. Grab-and-Go Options for Schools & Universities
Last, but definitely not least. Having refreshments available at San Antonio schools and colleges is very common. They are typically found in the teachers lounge, gymnasiums, and around campus. Having a place for students and staff to quickly quench their thirst makes everyone's lives easier! Plus, our San Antonio healthy vending solutions are a great way to support any wellness programs your school may have!
Enhance your Space with our Modern Vending Solutions
In addition to San Antonio break rooms, our vending services are useful in many places. So, are you ready to invest in your client's experience by supplying quality vending options in your business? If so, we can help! Visit us at L.C. Vending Co. or call 210-532-3151 today to get started!