There is something to say about partnering with a family owned business. It creates a personalized service specific to your needs. Yep, this is no different in the vending machine industry. L.C Vending Co. is a proud family run vending service provider. We have served the San Antonio area for over 60 years.
With plenty of industry experience, we offer the best San Antonio break room solutions around. Additionally, our company values are what make us successful. This shows in our level of service and care for every on of our customers. Keep reading to discover all the benefits to working with us!
A Personalized Service Experience
When it comes to your San Antonio vending machine service, there are levels of customization. Moreover, working with a corporate based company has many limitations. This includes policies out of their control. However, we have complete control over how we handle our business relationships. Personalized service is a major perk to all of our customers. Because, it allows us to manage each location personally. So, do you have a specific product or layout in mind? We can make it happen!
Furthermore, our employees love our company. This makes all the difference in how we provide service. Our employees want our company to succeed and go above and beyond to make sure they do! We are a family run business, and that doesn't just include our management. We treat every employee and customer like family. Every complaint or compliment is taken to heart and we use them to learn how to best serve San Antonio break rooms. So, any and all feedback is always welcome. We love to hear how we are preforming!
Customized Equipment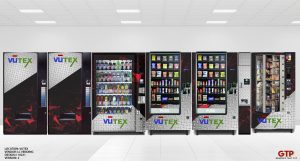 L.C. Vending Co. can equip your San Antonio break room with state-of-the-art equipment. Unlike other vending service companies, we can bring innovative technology into your break room.
Overall, our vending machines, micro-markets, and office coffee services are always up to date on the latest technology advancements. That's right, we strive to provide the best possible refreshment solutions.
Additionally, we can put a personal touch on every service we provide. Many of our customers have their logo or custom graphic on our vending machines. We know the joy this brings to our customers. Not to mention, it also enhances the overall look of their break room.
No Product Limitations with a Family Owned Vending Provider
We stay on top of what products our customers want in their San Antonio micro-market. Smart inventory technology allows us to remotely monitor product sales. This means, we can track popular product trends. Also, this allows us to replace slow moving products out. Being a family owned and operated business, we can bring in any product requested. Therefore, we have no limitations on the products we offer.
Ready to Work with a Family Owned and Operated San Antonio Business Today?
Instantly see the benefits when working with a locally run vending service provider. Contact us today at L.C. Vending Co. or calling 210-532-3151! We can't wait to receive your call and begin our story with you today!